Suppose you are downloading or transferring movies with large amount of data from network, or antivirus software is scanning your Surface Por or Windows 8 computer, it will spend you a lot of time completing. If you can't wait for the process to finish, the best way is to use Auto-Shutdown feature to schedule time in Windows 8, without requiring any additional software.
How to set up schedule automatic shutdown in Windows 8
* Press Windows + I from keyboard, click search, type Schedule tasks, right click it from results, and selecte "Run as Administrator" at the bottom.
You can also open Control Panel > Administrative Tools > Task Scheduler.
* First select "Task scheduler library" in the left side. Go to the right-hand pane, click "Create Task…" under Action.
* Type in a suitable task name like Shutdown and description, click next.
* Go to the trigger tab, click New…

* Choose the number of times option according to your needs. Daily will shutdown daily, "weekly or monthly" will do every week or month, and One time means it just does once.
Choose the time and date, and click OK.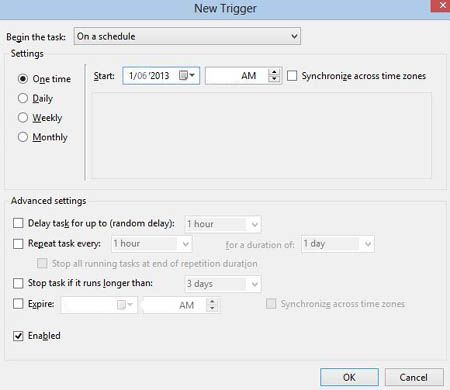 * Select "Start a Program" for Action, input C:\Windows\System32\Shutdown.exe in the Program/script, type /s /f in Add arguments and click OK.
Now review all information and click Finish button. Your Windows 8 tablet or PC has been setup to automatically shutdown on your preferred time.