The online hacking is increasing recently. To protect 's customers, many service providers release the supplementary option called 2-step verification, like Apple, Google, and Dropbox. The feature makes user's information more secure and adds an extra layer of security to your Account. Finally Microsoft also implements two-step verification for their accounts with all the products and services, including Windows 8, Outlook, Web browsers, Windows Phone, Skype,SkyDrive, and Xbox game.
How to setup two-step verification for Microsoft account
* To access your own account, you need a password and a extra security code sent to your phone or inbox.
* Open https://account.live.com/proofs/Manage from IE and sign in. Select the Security Info section and click "Set up two-step verification" link.

* Click Next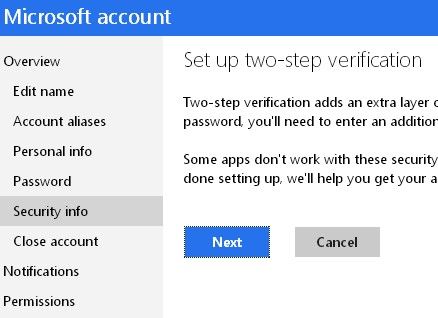 and select way to receive the verification code, including Authenticator app, Phone number, or Alternate email address. Then click Next button to finish the process.