I have configured Exchange ActiveSync (EAS) and get an ActiveSync policies remaining issue with Mail client on Windows 8 computer, even I have removed Exchange mailboxes requiring the policies and the account. Try doing a remote wipe from the server and re-installing the entire mail app but still not working.
To solve the problem, try the following step by step to reset Exchange ActiveSync policies which has applied to Windows 8 computer or Surface Pro tablet.
* Start the desktop, swipe in from right to open Charms bar, click on Settings > Control Panel.
* Select the "User Accounts" applet.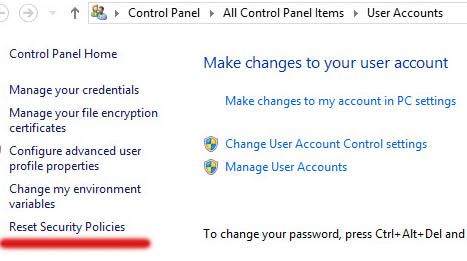 * In the left hand navigation menu, there is a "Reset Security Policies" link at the bottom. Click on it and then "Reset Policies" button.
Now you have disabled the ActiveSync enforced policies and the Exchange server will let you enable it again to access your mailbox.