Many software normally back up your Hard Drive, USB drives or entire Partition, and has a full computer backup feature in Windows 8. But they lack of a way to back up your device drivers installed on your tablet or computer. Making a special driver backup is useful and important, because you don't have to find and download from website, even they are unavailable online.
How to Backup Windows 8 Device Driver with Double Driver on Surface Pro or computer
* Double Driver is a small utility that not only displays all the drivers installed on your system, but also allows you to do a backup with all chosen drivers to save and restore them anytime.
* The freeware had updated over 2 years ago and supports Windows XP/Vista/7, but also works great on Windows 8 32-bit and 64-bit without any issues.
* To use it, you need to right-click its executable file and select "Run as administrator". It will automatically scan a full system and show all drivers it detects in a list.
In Backup tab, it selects all non-windows drivers by default. Smiply click on Backup Now button,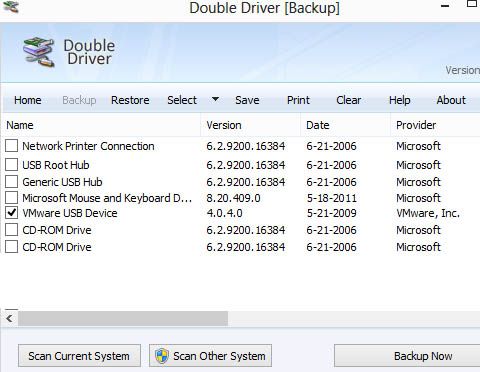 and choose a location to save them with three output type (Structured folder, compressed zipped and single file self extract).

Its built-in Restore function also works fine.