Every time I sign into Windows 8 Pro and go to Desktop mode, an alert Explorer.exe title dialogue box pops up but shows a blank message with the warning icon and an "OK" button. Trying to close it by clicking "X" and the dialogue box comes for three times and then disappears. I am not sure which crashes occasionally. Is there a way to fix an weird issue regarding Explorer.
How to fix Explorer.exe error on Windows 8 start up
* Press Windows + R to open Run dialog box, type in Regedit and click OK button.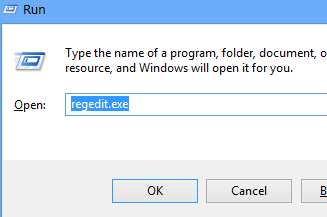 * Within Regedit Editor, go to the address below:
HKEY_CURRENT_USER\Software\Microsoft\Windows NT\CurrentVersion\Windows


You will see a "Load" string present in the right pane. Right-click on it and select Delete from the content menu. Now restart your computer or tablet to make the changes and the issue will be fixed.
* If you don't have the permissions to edit the string data value, go to the menu at the top, click Edit > Permissions…, check the Full Control box in the Allow column and then OK button.
You can also use a third party software called HijackThis to scan your PC and inspects browser and operating system settings.