When you use the Maps application in Surface RT or Windows 8 Pro computer, all distances will appear in miles values by default. If you are stuck using the large number system , try the tips to change the distance settings to configure all distances in kilometers instead of miles.
How to change the Maps distance settings in Windows 8 or RT OS
* Go back to the Start Screen by pressing Windows key, and click on the Maps App.
* Swipe in from right-hand side to bring up the Charms Bar. You can also use the Windows + C keyboard combination.
* Select Settings Charm and click on Options.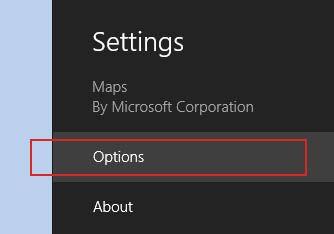 Under "Show distance in" option, check Kilometers box to switch the mode.