DisplayLink has announced that DisplayLink enabled USB docking stations and displays are supported with Surface Pro Windows 8 tablets. It gives users mobility while traveled or for transforming tablet to other workstation.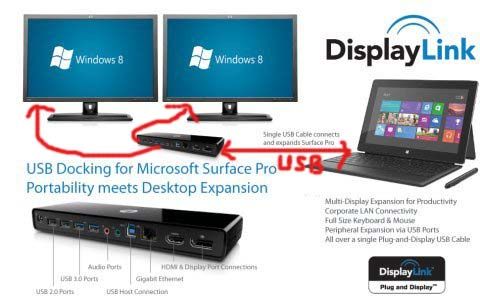 The Docking stations for Surface Pro comes with multiple different ports. After connecting it with your tablet via a single plug-and-display USB cable, you are able to work with multiple displays/monitors, audio, full-size keyboard and mouse, corporate Ethernet networks. The related products include Targus USB 3.0 Docking Station for Surface Pro with 3 Monitors and Plugable USB 3.0 Docking Station for Windows 8.
There are multiple selection of Video Output Types, including DP,HDMI, DVI-I or VGA, as well as the extras comes with Audio and Ethernet.
It is ease-of-use and deployment for enterprise and employee also loves the mobility and portability of tablets. Adding multiple displays also bring the best user experience. IT administrators also can use one docking station to organizate lots of the latest laptops, Windows Pro tablets, ultrabooks.
I had bought the related DisplayLink docking station. I pluged it into the wall to get power and connected it to my Windows 10 computer. After all the correct drivers applied in the system, it take control of two monitors well. I teseted it on my Surface Pro 4 without big issues. For real drawback, sometimes it is a bit sluggish with mouse movement on the docked monitor.