DisplayLink has announced that DisplayLink enabled USB docking stations and displays are supported with Surface Pro Windows 8 tablets. It gives users mobility while traveled or for transforming tablet to other workstation.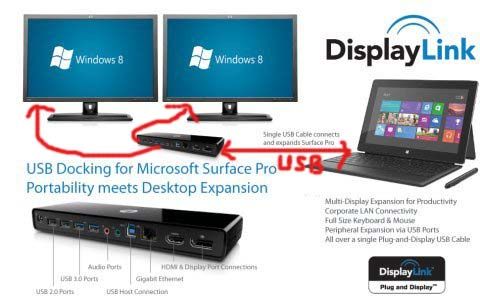 The Docking stations for Surface Pro comes with multiple different ports. After connecting it with your tablet via a single plug-and-display USB cable, you are able to work with multiple displays/monitors, audio, full-size keyboard and mouse, corporate Ethernet networks. The related products include Targus USB 3.0 Docking Station for Surface Pro with 3 Monitors and Plugable USB 3.0 Docking Station for Windows 8.
It is ease-of-use and deployment for enterprise and employee also loves the mobility and portability of tablets. Adding multiple displays also bring the best user experience.